Sterling, Va Wires-X Node & Repeater Is Back Up: 449.375- 110.9hz
gpmidi
Wed, 05/05/2021 - 09:29
After a bit of moving hardware around my 449.375 Wires-X repeater is back online. 
Frequency: 449.375-
Tone: 110.9hz (required for analog)
C4FM ID: 00 (required for C4FM/Wires-X)
Location: Sterling, Va, USA
Grid Square: FM19ha
Station Call: KG4TIH
WIRES-X Node: KG4TIH-ND (18558)
Default Room: VIRGINIA (21625)
Transmit Power: 50w
Coordination: TMARC
Repeater Update | 449.375- 110.9hz | Changed Room
gpmidi
Thu, 10/08/2020 - 07:51
I've turned off the VA-Sterling room for now as I've got my node defaulting to the Virginia room with a few other nodes in the state. 
Sterling, Va Wires-X Node & Repeater Is Up: 449.375- 110.9hz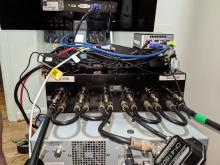 gpmidi
Thu, 10/08/2020 - 01:02
The Sterling, VA, USA repeater and WIRES-X node is now up and operational. 
It is a full duplex WIRES-X node, C4FM Repeater, and FM Repeater in FM19ha run by KG4TIH.
This Yaesu DR-2X repeater on 70cm is set for analog and C4FM mode. The node is set to auto join the VA-Sterling (28558) room after an inactivity period of 10 minutes. When in this room or others all C4FM traffic will be sent to the Wires-X room and all signals received via the room will be transmitted via C4FM. The Wires-X features on some Yaesu radios will allow the user to control what room is connected. 
Subscribe to 449.375- 110.9hz