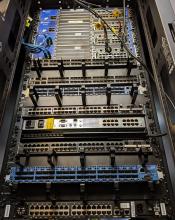 The network side of my rack redo is almost done. Once the two SRX650s on top are removed it'll be good to go. 
Gear
4x SRX650s w/ 10GbE
2x RackSwitch G8264
2x RackSwitch G8000 w/ 10GbE
1x Digi console serve
1x Avocent KVM
2x Voltaire Infiniband 4036 - 4xQDR (aka 40Gbps)
IB Network
The IB network will be used for Lustre. 
Tags